i was told that everytime you cross a bridge for the first time, you hold your breath until you get to the end of it and then make a wish. guese what my wish was. ;)
we arrived in a secluded resort in moalboal 30 min. before midnight. we had the whole beach, not the mention the whole night sky to ourselves! ;) we spent the whole night lying on the sand and... dreaming. awake.
we decided to take a splash in the warm sea water. very nice comfort from the cold of the dawn. do we look too drunk?
sun bathing!
oopps! white panty. hihihihihi *blush*
after soacking in the morning sun and the tides, we hiked up to Kawasan Waterfall to wash of the sea water with spring.
we still were wearing wet clothes. but who the hell cares.
no wonder we took us almost an hour to get there. hehehe
we had to follow the river upstream to get to the waterfalls.
there were a lot of coconuts along the way. ;)
and bridges
and trashcans!!!!
it was along walk...and we had to go up steep mountain sides..
but when we got there... it was worth it! ;)
the waters freezing!
poor munding... hihihihi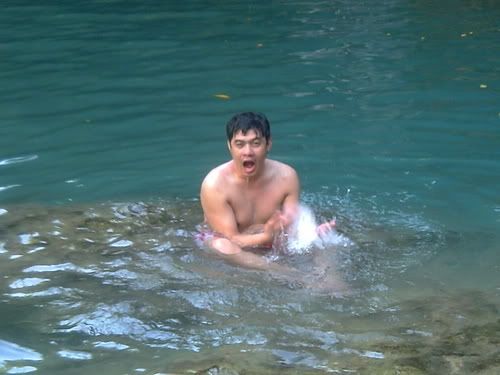 yey!! raft! ;)
and yep thats a beer bottle right there.
we went right under the falls and the water could get so painfull when it hits your shoulders and head, but it felt strangely relaxing. wish i could take everyone there. ;)
these are the things that make me feel:
ecstatic
earworm: happy!!!